You can also enjoy the pure olive oil


                        
Our olive groves of the family Paterakis enterprise are located in the small village of Drapanias, 6 km outside of Kissamos in Northwestern Crete. They are farmed organically by the 5th generation of the family. MITHIMNA is based on principles of self-reliance, innovation and environmental consciousness. My husband Michalis already started as a child to plant and water olive trees. He always had the help and the guidance of his grandfather and father. Today we harvest the fruits. According to the Cretan Saying: "The grandfather plants the olive tree, the father cultivates, and waters it, and the grandson harvests."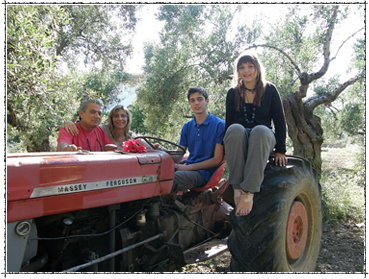 The irrigation, harvest and processing methods have changed, however, our family still gives great importance to the care and cultivation, while maintaining the traditional ways of farming and olive oil to modern standards. Therefore improving the quality, preserving and promoting tradition and supporting sustainable agriculture on the Island of Crete.The region of Western Crete offers the best conditions for olive trees to flourish: the rich soil, extensive sun in the summer, a good water supply from the winter rains and the water from the mountainous inland countryside.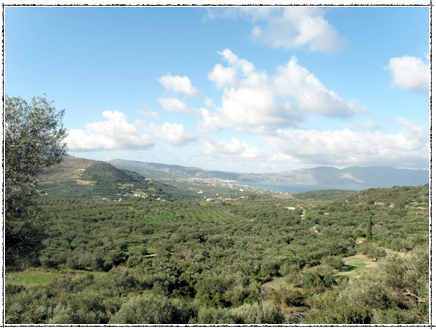 Our philosophy is:

To produce a high quality olive oil, and sell directly to our customers.
The expenses for the olive oil- production are very high. In order to offer you our olive oil at a fair price, we do not use expensive advertising campaigns and costly packaging.
Traceability of our olive oil. Strict guidelines are applied for processing and transport to ensure the quality.
We keep contact with our customers and are open for questions and suggestions.
Our olive oil
Our olive oil is first grade extra virgin, biological olive oil, directly and 100 % from the Koroneiki olive. It is processed only by mechanical pressing methods. Extra virgin means that the olives are hand-picked directly from the tree at the optimal ripeness. Then, only a few hours after the harvest, the unharmed olives will be cold pressed in an oil mill without chemical additives, at temperatures below 27°C.

MITHIMNA – olive oil has wonderful warm green colour with the smell of freshly cut grass and a delightfully mild peppery taste. The free oleic acid (or free fatty acids) is under 0.7 %.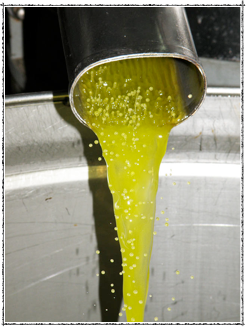 Tips for using olive oil!

Our olive oil is ideal for:
Baking, cooking and frying
Olive oil has a high smoke point, which is about 200 °C, and it can therefore tolerate higher temperatures than other oils.
For salads, dips and sauces of all kinds.
For preserving and marinating of vegetables, meat and cheese.
Recommended for pesto or pure with herbs to serve with pasta.
To produce massage oil, body oil, cosmetics, hair care and oil pulling therapy.
To enhance the quality, the olive oil should be stored in glass or stainless steel containers, airtight, in darkness, at about 16 ° C. If stored too cold, it thickens or flocculates, but it takes on its original consistency again when warmed up and can be used as before without loosing quality. Do not clean the containers with vinegar or perfumed detergents and we advice not to use plastic or unglazed clay pots for storage. 
Information
If you have questions, or wish further information, please contact me at:
Diese E-Mail-Adresse ist vor Spambots geschützt! Zur Anzeige muss JavaScript eingeschaltet sein!     www.olivenoelkreta.de
Orders and mailing:
Sabine Paterakis
Phone +49 (0)40 531 69 672
Mobile +49 (0)157 890 84 544

Kali Orexi! Enjoy your meal!